Inkerman Mill No.1

Hunslet Engine Co b/n 1119 of 1913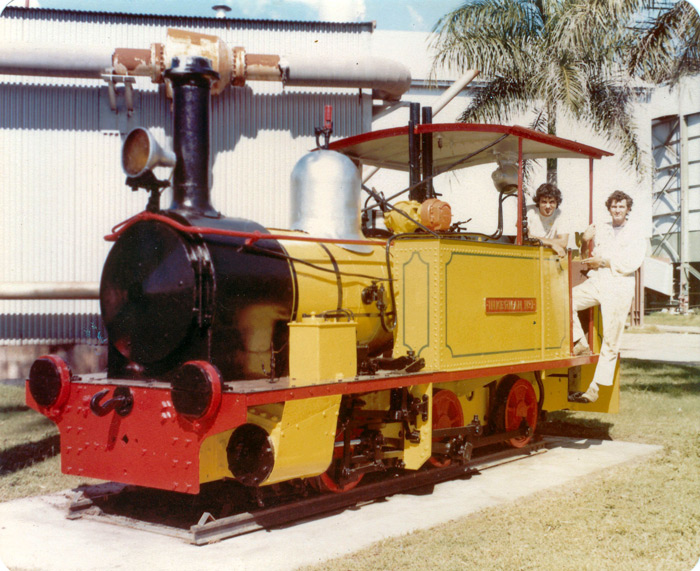 Mark Bennett has kindly provided this undated view of Inkerman No.1 plinthed at a sugar mill (presumably Inkerman Mill).
The locomotive had just been repainted by Mark and his apprentice, who are standing on the footplate.
This locomotive was built by the Hunlset Engine Company of Leeds, England as their builder's No.1119 of 1913. It operated at Inkerman Mill, Home Hill where it carried the number 1. (a)
I believe that Inkerman No.1 was plinthed at the Inkerman Mill for several years following its retirement from service. Apparently this locomotive is now privately owned and kept at a private site at Burdekin, near Home Hill, where I understand it is under restoration. (b)
Any further information about Inkerman No.1 and its current situation is welcome.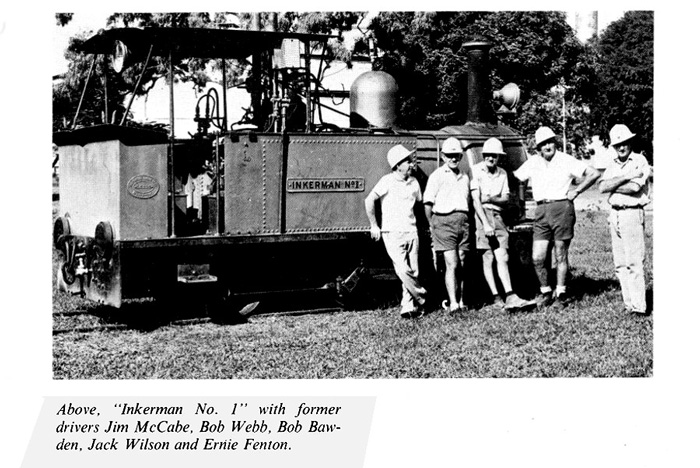 Mark Bennett has also provided this scanned image of Inkerman No.1 and its former drivers at Inkerman Mill.
The Hunslet builder's plate is clearly visible, together with the impressive "Inkerman No.1" brass name plate.
References
| | |
| --- | --- |
| a | Light Railway Research Society of Australia Inc. Web site (as at 20/3/2009): 'Preserved Australian Sugar Cane Locomotives' list by John Browning (www.lrrsa.org.au/LRR_SGRc.htm) |
| b | Personal comment or observation. |
Page updated: 6 February 2011