W 916

Restored in the guise of Silverton Tramway W 22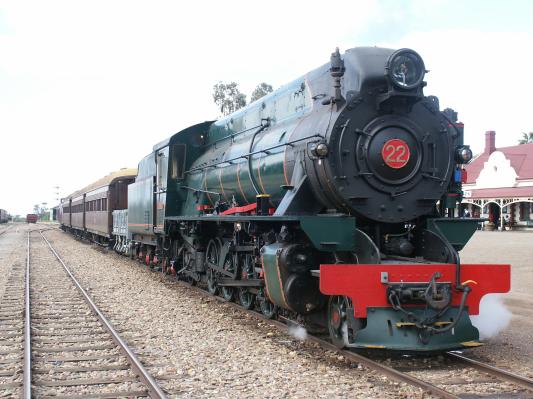 This photograph is kindly provided by Stuart Jackson and shows WAGR loco W 916 (restored as Silverton W22)
preparing to depart for Port Augusta with the Afghan Express on 30 August 2003.
W 916 was built by Beyer Peacock & Co, Manchester (builder's number 7393 of 1951) as one of sixty "W-class" 4-8-2 locomotives delivered to the Western Australian Government Railways for light lines service. The W-class proved to be highly successful locomotives, displacing older O-class 2-8-0T+T and G-class 2-6-0 & 4-6-0 types on secondary lines and augmenting the V and S-classes on main line duties.
Most WAGR W-class locomotives were withdrawn in June 1971 and joined the long lines of modern steam power that were cut up for scrap at Midland Workshops, however W 916 was among 19 class members retained in storage a little longer until officially withdrawn in August 1972.
W 916 was sold to the Pichi Richi Railway Society in 1974 and transferred to their workshops at Quorn in the Flinders Ranges, South Australia. W 916 was originally intended to be a potential donor of heavy spares for the Pichi Richi's operating W-class locomotives W 933 and W 934 and accordingly it was placed in dry storage within the Quorn workshops.
Fate subsequently provided a kind turn to W 916 when the Pichi Richi Railway Preservation Society obtained Silverton Tramway W 22 from static display at the Puffing Billy Museum, Menzies Creek with the intention of full restoration. However, upon assessment at Quorn, W 22 was found to be in poorer condition that W 916. The Pichi Richi Railway Preservation Society wanted to honour their commitment to restore W 22 to operation, so WAGR sister W 916 was instead overhauled and renumbered as Silverton W 22, apparently using some original W 22 parts (probably including the skyline cowling) and with transfer of identifying number and name plates.
W 916's restoration to operation as Silverton W 22 was completed in April 2003. The webmaster enjoyed a trip behind W 916 (restored as W 22) on the Pichi Richi Railway during 2007 on the Afghan Express from Port Augusta to Quorn and return. The locomotive performed absolutely faultlessly; in fact my only reservation was that the locomotive was so powerful and capable that it hauled its 5-car consist over the steep and tightly-curved Pichi Richi Pass with - seemingly - barely any effort at all!
The Pichi Richi Railway's W-class fleet now comprises operational W 916 (as W 22), 933 and 934, with stored W 931 and the real Silverton W 22 providing a useful pool of heavy spares and possible future restoration projects.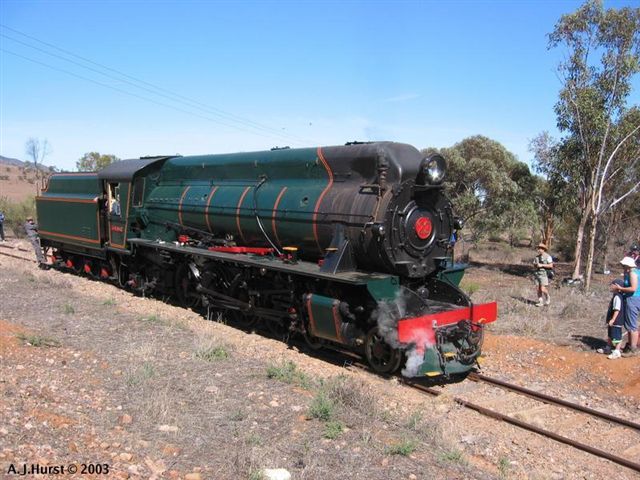 WAGR loco W 916, beautifully restored as Silverton Tramway W 22.
This view was contributed by Tony Hurst and shows W22 turning on the triangle at Woolshed Flat in 2003.
References
a

A. Gunzburg 'A history of WAGR steam locomotives',

published by ARHS (Western Australian Division) 1984.

b

McNicol, S. 'Silverton Tramway Locomotives',

Railmac Publications, 1981
Page updated: 7 January 2015