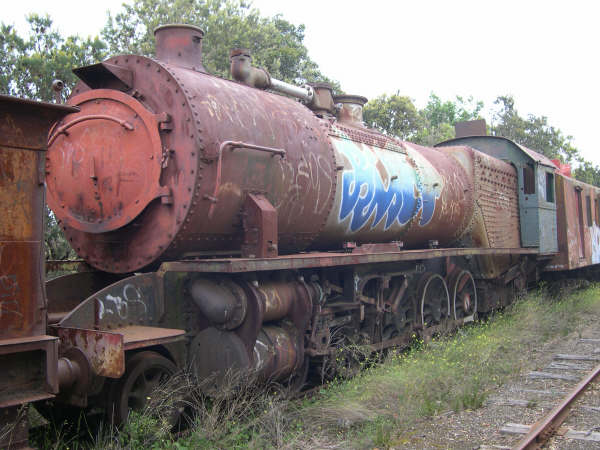 This photograph is kindly provided by Chris Schultz and shows S 547 in storage at Mannerium siding during November 2004.
This locomotive was built by the West Australian Government Railways at their Midland Workshops in 1947, being the seventh of ten members the S-class freight locomotives of the 4-8-2 "Mountain" wheel arrangement. Appropriately, the S-class carried the names of Western Australian mountains and S 547 received the name "Lindsay" in WAGR service. (a)
S 547 "Lindsay" was withdrawn by the WAGR in June 1971 and placed in storage at Midland Workshops. It became one of the final steam locos acquired from the WAGR for preservation when acquired by the Bellarine Railway in 1980 and transferred to Queenscliff. It is paired a large S-class tender which had originally been fitted to sister S 542. (S 542 is plinthed at East Perth terminal and is displayed with S 547's original low-side tender.) (a)
S 547 Lindsay and tender were stored at Queenscliff depot during the 1980's, and later at Mannerium (a siding along the Bellarine Railway) during the 1990's.(d) It has been stripped of boiler clothing and other parts for storage. (b)
S 547 is now stored undercover at the Bellarine Railway's new restoration and storage facility at Lakers Siding, and awaiting future restoration. While it looks rather derelict, it is believed to have very good boiler and mechanical condition. (c)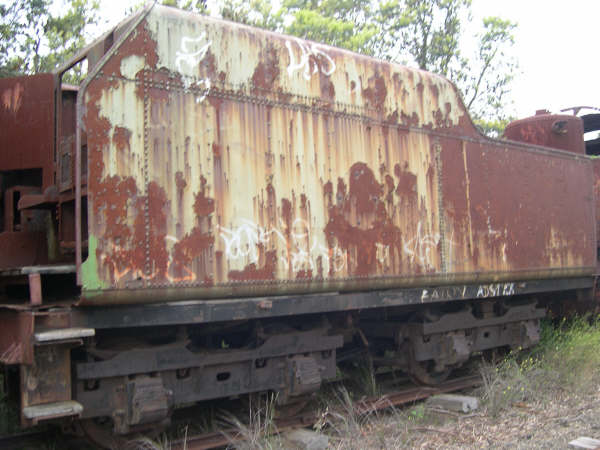 This photograph is also provided by Chris Schultz and S 547's large S-class tender in storage at Mannerium siding during November 2004.
The original green WAGR livery is just evident under surface rust.
References
| | |
| --- | --- |
| a | A. Gunzburg 'A history of WAGR steam locomotives', published by ARHS (Western Australian Division) 1984. pp117 - 120. |
| b | Information provided by Chris Schultz via email dated 21 March 2004. |
| c | Information provided by D. Price via email dated 27 January 2011. |
| d | Personal comment or observation. |
Page updated: 5 April 2011