H8

Frames displayed at Invermay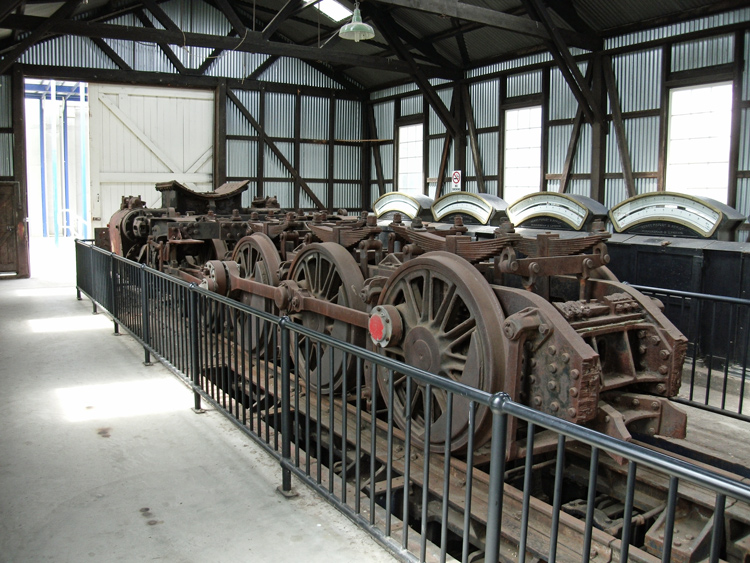 H8's frames displayed

on the weighbridge at the Invermay Rail Heritage Precinct on 26 October 2014.

The oxy-cut through the main frames and rear truck can be seen.

It can also be seen that the third pair of driving wheels were flangeless.

H8 was a 4-8-2 freight locomotive built by Vulcan Foundry of Lancashire (builder's number 5956 on 1951), being the last of eight locomotives of this type which became the Tasmanian Government Railways' H-class. This design was a repeat of the "248 class" locomotives previously constructed by Vulcan Foundry for the Gold Coast Railway of western Africa. a

Both the Tasmanian Government Railways M & H-class locomotives were of modern design, featuring roller bearings on all axles and throughout the motion, and were the only Australian classes to be completely fitted-out with roller bearings. These locos also had SCOA-P wheels, like the Victorian Railways' R & J classes and the Queensland Railway's BB18-1/4 class.

The Tasmanian Government Railways were taken over by Australian National Railways in 1978, which appears to have prompted a cleanup of redundant railway assets. At this time H2, H3, H4, H5 and H8 were in storage at Launceston and quickly came up for acquisition. Whilst H2 and H5 were preserved, unfortunately H3 and H4 were scrapped in early 1979. a H8 was also largely scrapped, with the boiler and cab cut away, however the complete chassis came into the possession of the Don River Railway. H8's chassis was stored at Coles Beach on the Don River Railway for many years, ostensibly as spares for other preserved H-class locomotives. At some stage the rear frame extension and rear truck were also cut off. (Two tender bodies were scrapped at the same time as H3, H4 & H8. Unfortunately there were never any spare H or M boilers, so the prospect of augmenting H8's remains are now limited.) b

H8's remains moved to Inveresk in late 2001 and are now displayed at the restored Invermay Rail Heritage Precinct, Launceston where they are presented in the restored weighbridge shed. c Although incomplete, the frames of H8 help interpret the use of the weighbridge and also provide interesting detail into steam locomotive design and construction.

My thanks to Tristan Verhoeff for providing the photos of H8's frames on this page following his visit to Invermay on 26 October 2014.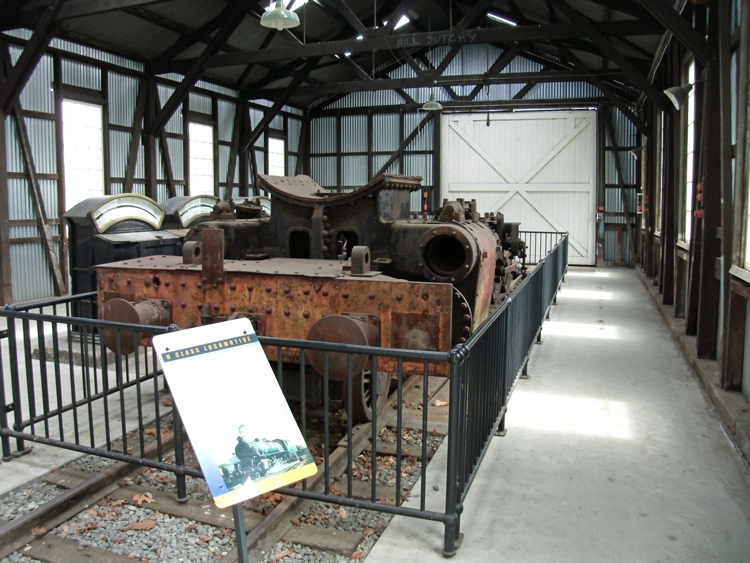 A further view of H8's frames displayed in the weighbridge shed at Invermay on 26 October 2014.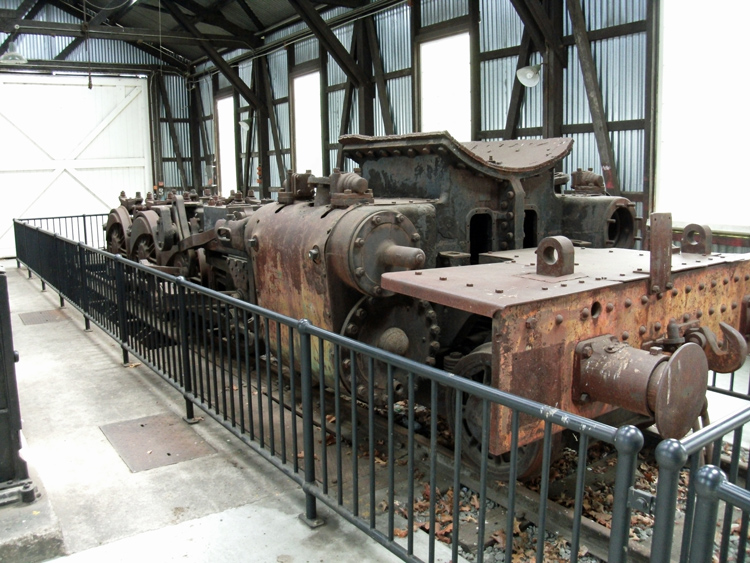 A further view of H8's frames displayed at Invermay on 26 October 2014.
A remnant of the former TGR green livery can be seen on the cylinder cladding.
Comparison with the 1993 view below shows the steam pipes from the smokebox & vacuum pipe from the front buffer have now gone.
Also removed are the gear links and distinctive curved transfer shaft between the left and right motion quadrants.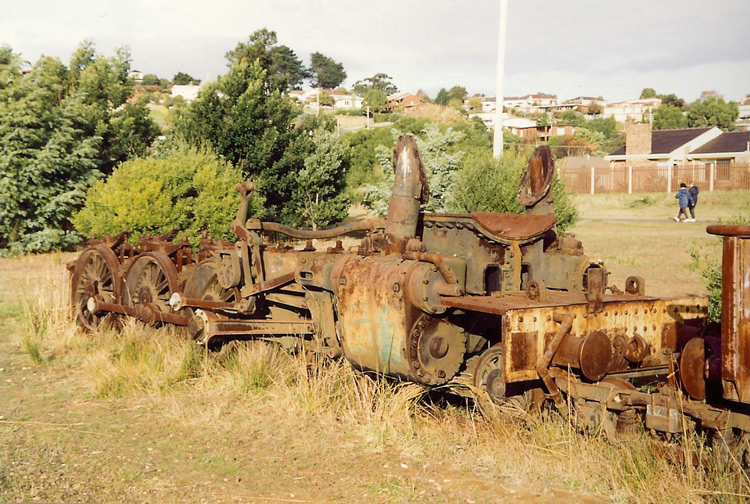 I first encountered H8's

remains at the Don River Railway's Coles Beach terminus, as seen in this view of May 1993.

References
a

Dix, A., Beck, D., and Dix M. 'Locomotives of the Tasmanian Transport Museum Glenorchy Tasmania',

published by the Tasmanian Transport Museum Society, October 1991.

b

Information provided by Melanie Dennis via email dated 14 July 2004.

c

Information provided by S. Dix, 4/3/02

d

Webmaster's observation or comment.
Page updated: 29 October 2014