ASG Boiler

Remnant of the Australian Standard Garratts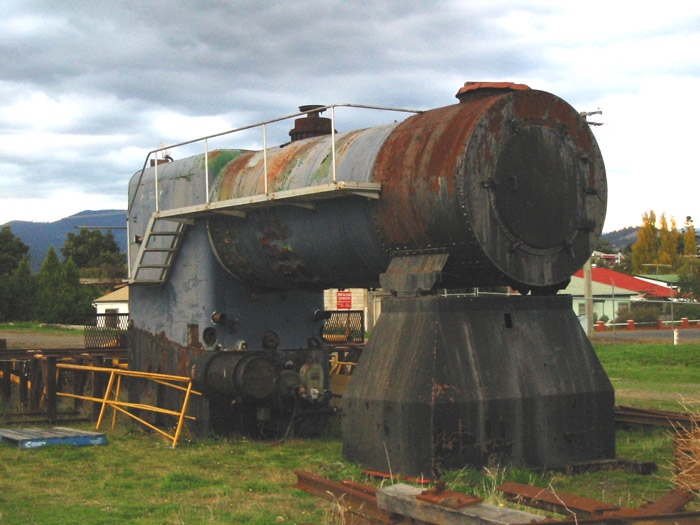 This ASG boiler has been adopted for static use at some stage.
It is stored by the Derwent Valley Railway at their New Norfolk depot, as seen above on 30 April 2003.
The Australian Standard Garratt (ASG) was proposed and designed by the Commonwealth Land Transport Board in 1942 in response to the urgent wartime need for powerful locomotives for the nations 3' 6" gauge railways. The design team was supervised by the WAGR Chief Mechanical Engineer and sixty-five units were authorised for production across a number of Australian workshops:
Newport Workshops (Vic) - 16
Islington Workshops (SA) - 12
Clyde Engineering (NSW) - 27
Midland Workshops (WA) - 10
The first ASG locomotives were in steam within 12 months of design starting, reflecting the wartime emergency conditions in which the class was conceived however it seems the design was too rushed as these engines suffered from many flaws and became very unpopular with crews. Indeed the ASG locomotives were even subject to a Royal Commission in WA. Construction ceased in December 1945 with 57 units assembled and most were destined for short lives, with some only working for a number of months and one being scrapped having never turned a wheel.
Fourteen ASG locomotives were allocated to the Tasmanian Government Railways. One of the more successful users of the ASG was Tasmania's privately owned Emu Bay Railway, which purchased five units and made a number of improvements to rectify design defects. Interestingly these ASGs replaced three older 4-8-2 + 2-8-4 Beyer Garratts which had been supplied to the Emu Bay Railway in 1929.
All of the Tasmanian Government Railway and Emu Bay Railway ASG locomotives met the scrapper's torch, however an interesting survivor can be found at the Derwent Valley Railway's New Norfolk depot in the form of an ASG boiler which had been adopted for static industrial use.
The Tasmanian Government Railway was in the habit of re-using otherwise redundant components that could be put to good use, including a number of ASG water tanks which were adopted for stationary use as lineside water supply. Four such ASG water tanks survive in the care of the Don River Railway.
The only complete ASG survivor is G33 which operated as No.3 at the Fyansford Cement Works in Victoria.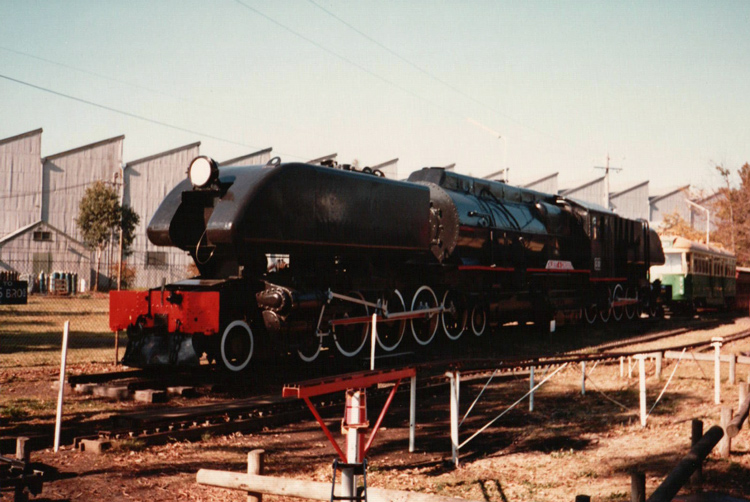 This scanned print shows G33 displayed at the ARHS North Williamstown museum in May 1986.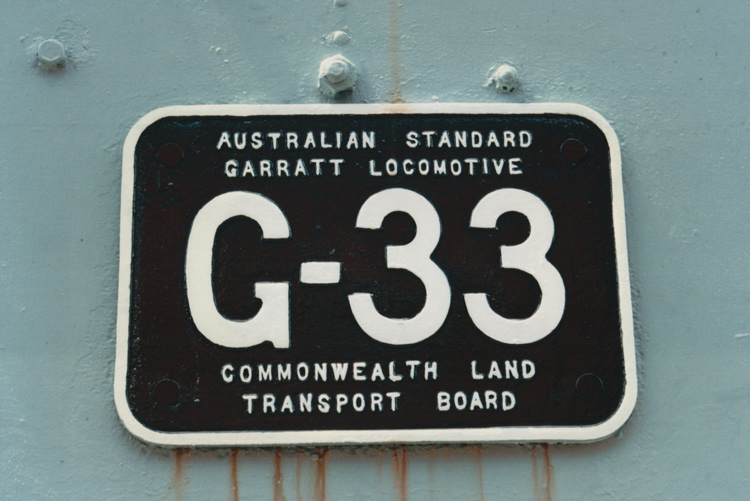 G 33's numberplate shows the Commonwealth Land Transport Board parentage of the Australian Standard Garratt locomotives.
This scanned photo dates from a period when G 33 was displayed at North Williamstown in Fyansford grey livery.
References
a

A. Gunzburg 'A history of WAGR steam locomotives',

published by ARHS (Western Australian Division) 1984.

b

West A. M., 'Crimson Giants - The Articulated Steam Locomotives of Queensland Rail'

published by the Australian Railway Historical Society, Queensland Division, 1995.
Page updated: 25 September 2014