4472 Flying Scotsman

Bicentennial Visitor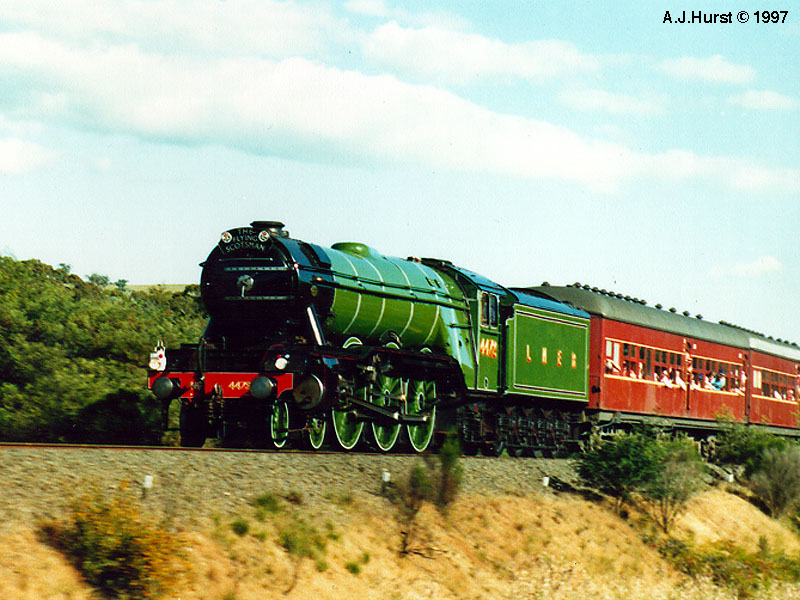 This fine photo is provided courtesy of John Hurst and is dated October 1988. John's caption reads "'...Another view of 4472 speeding through the Australian bush".
4472 Flying Scotsman is arguably the most famous steam locomotive in the world. She was built by the Great Northern Railway in 1923 for express passenger work, in particular the namesake "Flying Scotsman" train which ran non-stop between London & Edinburgh. In 1934, No.4472 Flying Scotsman established a world record as the first locomotive to officially reach 100 miles per hour.
The locomotive was retired from British Railways service in 1963 and was purchased privately for preservation. 4472 Flying Scotsman has since travelled extensively during its life in preservation, including tours of the United States between 1969 and 1973.
4472 Flying Scotsman is included in the Australian Steam pages in recognition of its visit to Australia in October 1988 for "Austeam '88" as part of the Bicentennial Celebrations. 4472 Flying Scotsman was generally shedded at Eveleigh Workshops in Sydney and led a number of tour trains from Sydney to destinations such as the Hunter Valley or Southern Highlands, often double-heading with 3801. (Your webmaster has many fond memories of 4472 Flying Scotsman from this time, including a spirited run to the Hunter Valley as part of a luncheon trip to a local vineyard.) 4472 Flying Scotsman ventured interstate on a number of journeys, initially to Melbourne for Austeam 88, and later trips to Broken Hill and on to Alice Springs. 4472 also travelled to Brisbane with 3801. 4472's visit down under finished when she returned to the UK in September 1989.
4472 Flying Scotsman has had a series of private owners and benefactors during its preservations life. In April 2004 the locomotive was purchased for the UK National Collection and became a key exhibit for the UK's National Railway Museum, York; here is a link to their informative exhibit information page.
In addition, this link to the Wikipedia entry for 4472 Flying Scotsman also provides comprehensive information for this famous locomotive.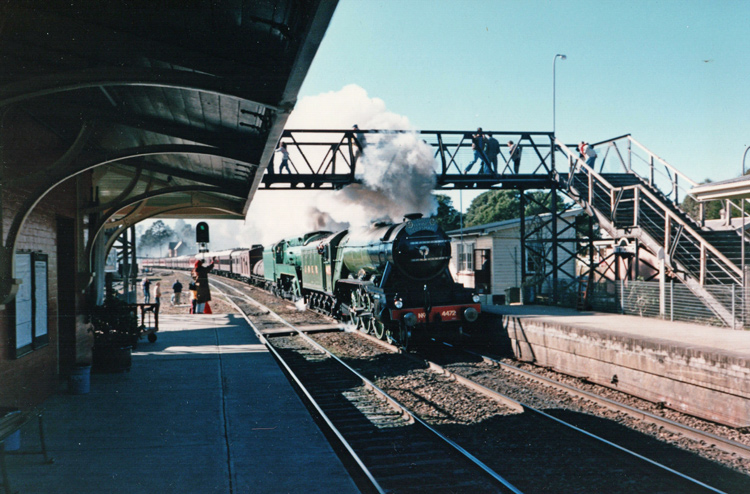 4472 leads 3801 as they sweep through Mittagong station on a lengthy tour train.
Page updated: 18 September 2013