3801

Australia's most famous locomotive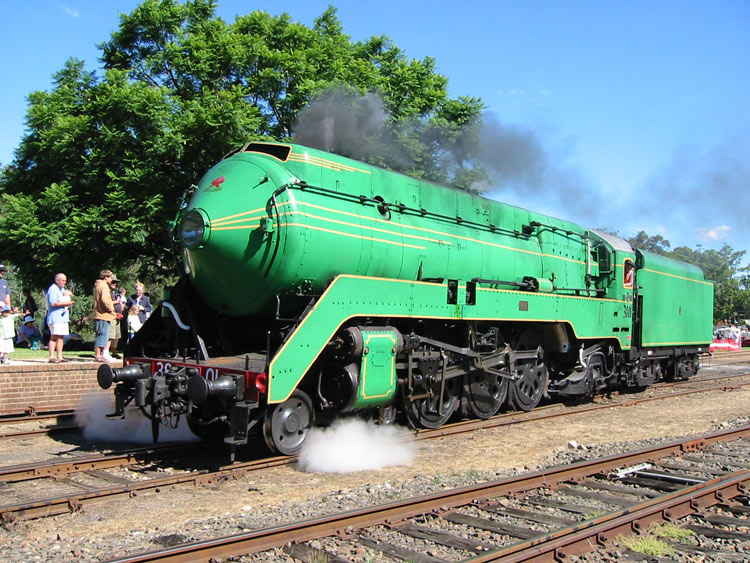 This photo shows 3801 shunting at Thirlmere station during the NSWRTM gala of 6 March 2005.
Many detailed articles and publications have been written about 3801; rather than attempt to summarise this history, the text below is offered as some personal reflections of 3801's significance.
3801 was built by Clyde Engineering, Granville in 1943 as the first of 5 streamlined locomotives for express passenger duties. The delivery of 3801 and her streamlined sisters was much delayed due to wartime labour & material shortages, together with competing construction priorities. These locomotives ran for the first few years in wartime austerity livery of workshop grey, attracting the nickname "Grey Nurse".
The first five streamlined locomotives 3801-3805 were joined by 25 semi-streamlined sisters 3806-3830, with even-numbered locos being built by the NSWGR Eveleigh Workshops, and odd numbered locomotives by the NSWGR Cardiff (Newcastle) Workshops. They were issued to traffic in lined green livery, however all but 3813 subsequently received lined black livery during the 1950's.
The first 5 streamlined 38 class locomotives were heavily worn by mid-1960's, at a time when steam traction was being phased out. 3801 had been scheduled for withdrawal due to deteriorating mechanical condition, but rail enthusiasts raised sufficient funds to cover the difference between the overhaul of 3801 and a less worn member of the class. 3801 thus went on to outlive its 4 streamlined sisters in NSWGR service.
3801 joined the collection of the NSWRTM Enfield on withdrawal from NSWGR service and continued in operation as a tour locomotive. (One of the webmaster's earliest memories is of 3801 on a tour train at Hornsby station... unfortunately I was standing a little too close to the cylinder drain-cocks at departure time!)
A particularly significant tour began on 22 August 1970 when 3801 and 3813 departed Sydney on the "Western Endeavour" train in celebration of the newly completed trans-continental standard-gauge railway. 3813 assisted 3801 as far as Port Augusta, while 3801 & the Western Endeavour continued on to Perth.
3801 hauled a train of exhibits from Enfield to the new NSWRTM Thirlmere site in 1975 but by 1976 had been withdrawn from service due to poor boiler condition. The locomotive was then displayed as a static exhibit at Thirlmere.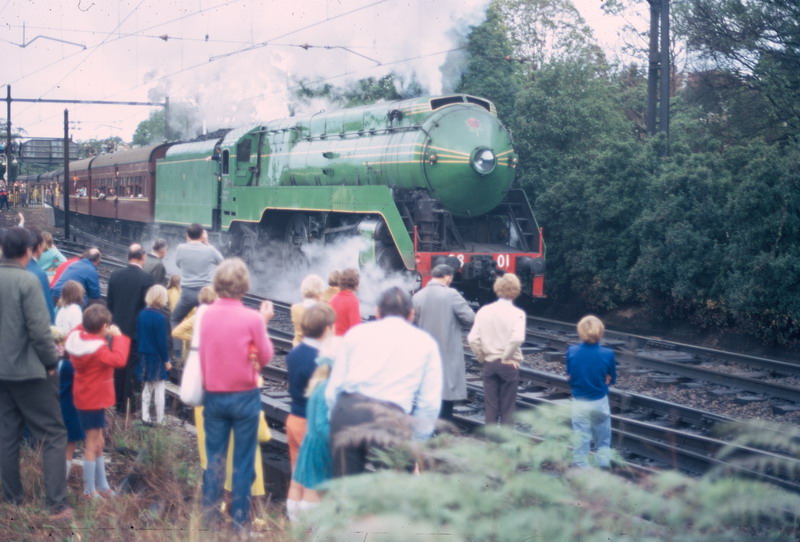 This slide is kindly provided by Eric Adcock and shows 3801 on a tour train at Gordon Station in 1973. This image captures some of the spirit of 3801 as a celebrity locomotive, drawing the pubic to the lineside for a fleeting view as it passes. (Times have changed and this scene of trespass onto the railway right-of-way would now be considered a very serious safety incident!)
1986 Overhaul
After nearly a decade of static display at Thirlmere, 3801 was transferred to the care of the newly-established entity '3801 Limited' under a 20-year lease, and received a heavy overhaul by apprentices at the Hunter Valley Training Company, Newcastle. This overhaul was a major achievement and broke new ground for Australian railway preservation, including the construction of a new inner firebox. However the overhaul did introduce a number of non-authentic modifications to 3801, notably a reduction in boiler pressure from 245psi to 215psi and the replacement of the original rivetted tender tank with a welded version.
One of the most memorable rail tours your webmaster has ever enjoyed was 3801's "Return to the Main South" from Sydney Central - Moss Vale & return, the first run on the South line following overhaul. 3801 put on a sparkling performance on the grades & curves of the Main South and the mood on the train was ecstatic. Photo run-pasts were held on the Bargo Viaduct on the morning run to Moss Vale, and Spaniards Hill on the afternoon return to Sydney.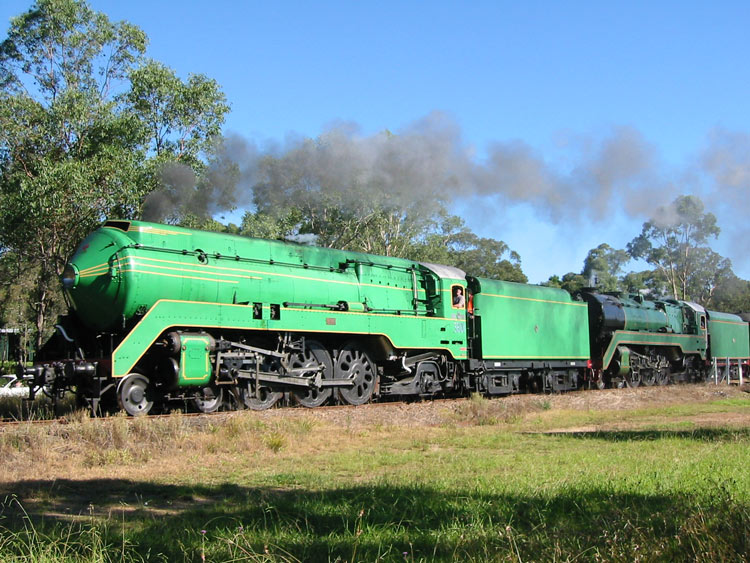 This photo shows 3801 & 3830 coasting downgrade on departing Thirlmere during the NSWRTM gala on 6 March 2005.
3801 Limited
3801 Limited successfully operated 3801 and suitable heritage rollingstock from the old Eveleigh Rail Workshops in central Sydney for 20 years until late 2006. 3801 travelled throughout Australia during this period, including a significant role in the Australian Bicentennial celebrations of 1988. The locomotive mainly wore lined green livery under 3801 Limited operation, but did feature 1950's -style black livery with red lining for a period around 1999 - 2000 and "grey nurse" livery around 2006.
Following expiry of the 20-year lease to 3801 Limited, the locomotive reverted to custody of the NSWRTM and was transferred back to Thirlmere in early 2007. 3801 had received significant maintenance throughout its operation by 3801 Limited (including some new tyres) however the boiler had inevitably been ageing after 20-years of railtour duty. 3801 was finally stopped for major boiler renewal at the end of 2007.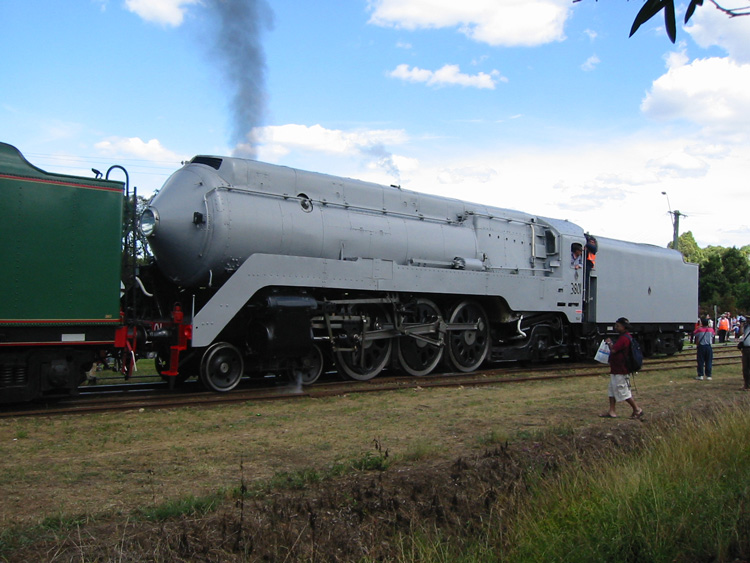 3801 behind 3830 awaiting departure from Thirlmere on 5 March 2006 in "Grey Nurse" livery.
(Perhaps someone can provide a photo of 3801 in lined black livery from 1999-2000?)
The Future
Tenders were called for a new boiler for 3801 during early 2009 and it was subsequently announced that the new boiler would be built in Germany by the Meiningen Locomotive Works. 3801 has now moved to the Chullora Workshops (Sydney) for overhaul, and the tender tank trucked to Maitland for repair. A return to steam in 2010 was expected, with progress reports at www.3801.com.au. UPDATE: Issues have subsequently been found with the new boiler built at Meiningen and 3801's return to steam has been delayed.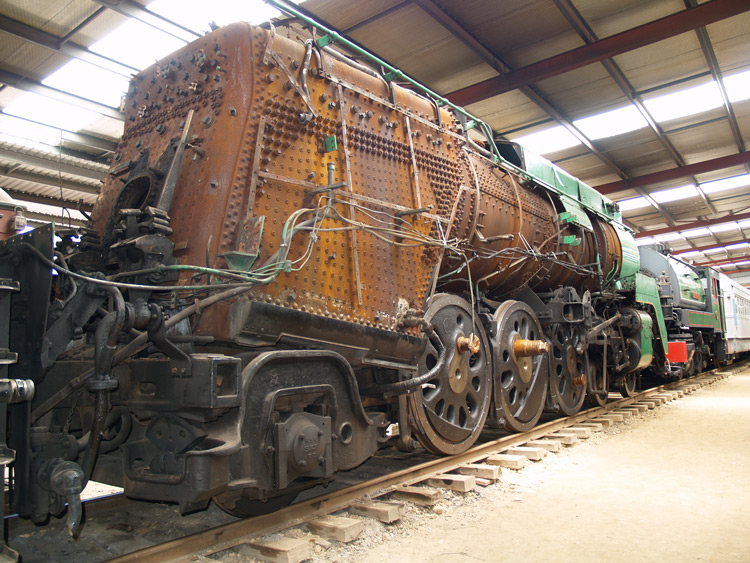 3801 stored at the NSWRTM Thirlmere on 23 November 2008, stripped for assessment; boiler replacement has now been deemed necessary.
The Wikipedia entries for 3801 and 3801 Limited also provide good information on this famous locomotive. 3801 also stars in the magnificent railway film "A Steam Train Passes" and can be seen on this link to the National Film & Sound Archive of Australia: http://tinyurl.com/FAC3801
Page updated: 28 August 2012