3046

Stored for the Dorrigo Steam Railway & Museum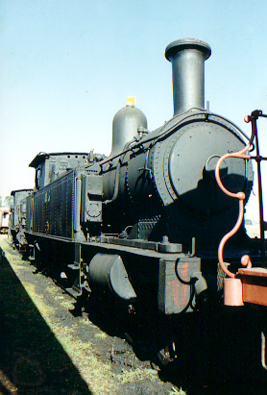 Mark Newton has contributed this photo showing 3046 stored at Dorrigo in 1999.
The original NSWGR red lining is visible on side tanks and the wooden buffer-beam can be seen.
A connecting rod is sitting on running board.
This locomotive was built by Beyer Peacock & Co, Manchester as their builder's no. 5140 of 1908 and delivered to the New South Wales Government Railways as one of 145 members of the successful (S)636 class 4-6-4T locomotives for Sydney suburban passenger duties. It was originally numbered S 819 and later became 3046 of the (C)30 class in the NSWGR 1924 renumbering scheme.
3046 was withdrawn by the NSWGR in 1972 and purchased in 1974 for the Dorrigo Steam Railway & Museum collection. After a period in store at Rhondda Colliery it was rail hauled to Glenreagh in the mid-80's and later towed along the Dorrigo branch to the terminus station. Together with other locomotives stored in the Dorrigo collection it regularly receives a coat of black-oil to provide protection from the elements.
References
a

"A Compendium of New South Wales Steam Locomotives" compiled by Alex Grunbach, published by the

Australian Railway Historical Society, New South Wales Division, 1989.

b
Kramer, J. 'The Dorrigo Steam Railway & Museum - an Illustrated Guide', published by the Dorrigo Steam Railway & Museum, 1987. Printed by North Coast News Pty Ltd, 53 Moonee St, Coffs Harbour 2450 NSW.

c

Webmaster's observation or comment
Page updated: 1 September 2013