E 18

A classic Stephenson "Long Boiler" 0-6-0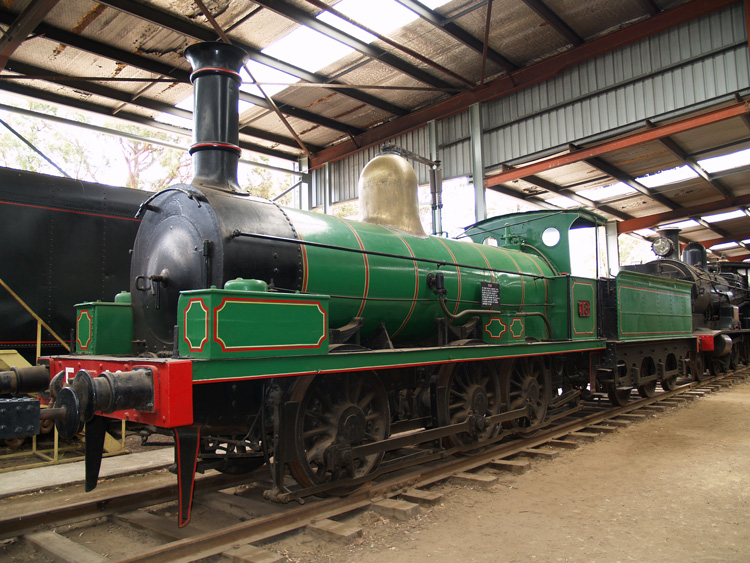 This photo is shows No.18 at the NSWRTM on 23 November 2008.
The skylights in the display hall were upgraded in 2008, which greatly improved exhibit viewing and photography.
No.18 was the second of the "E-17" class 0-6-0 freight locomotives, built in 1866 by Robert Stephenson & Co in Newcastle as their Builder's Number 1542. The E-17 class were examples of the classic Stephenson "Long Boiler" 0-6-0 design, which achieved significant increases in boiler efficiency and haulage capacity via a deep firebox which hung after the rear driving axle. The E-17 class ultimately numbered 23 locomotives supplied by several builders, and pioneered a successful family of NSWGR 0-6-0 locomotives of the E-17, I-48, O-60 and A-93 classes. The E-17 class were allocated to freight duties on the newly-opened and heavily graded main lines to the South and West of Sydney, including operations over the Great Western Railway and Lithgow Zig Zag, and the Great Southern Railway through Picton and Thirlmere to Goulburn.
E18 was withdrawn by the NSW Railways as early as 1897. It was sold to the Southern Coal Company (which became the Corrimal Coal & Coke Company) and worked for them for many years, apparently being taken out of service in 1953. Fortunately it was still in existence when the NSWRTM came into being in the early 1960's, and was obtained as a key exhibit in the formative days of that museum's collection. It was restored and placed on display at the Enfield Roundhouse site, and transferred to Thirlmere together with other exhibits in 1975.
E18 retains some interesting features of early locomotives such as Salter safety valves. The large sandboxes on the front running plate attest to heavy freight train duties on the 1:33 grades and sharp curves of the early main line alignments, together with the need to counterweight the firebox.
Page updated: 17 November 2010