1033

F(351) class Suburban Passenger locomotive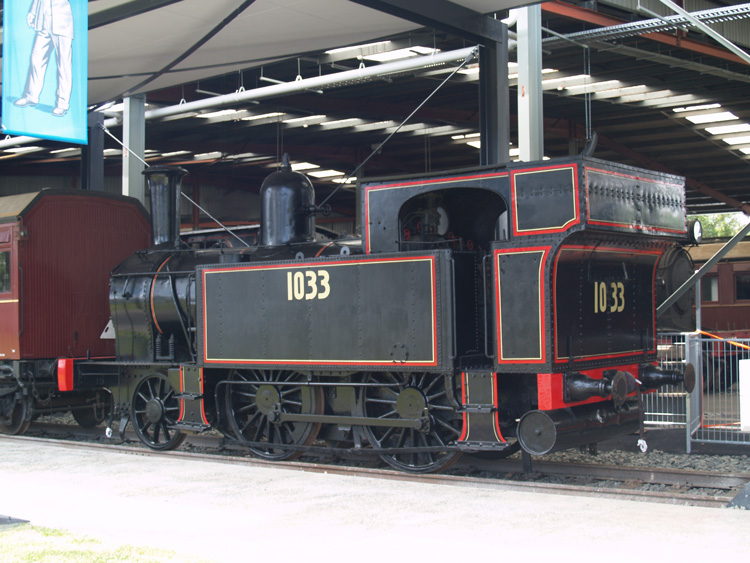 Fr

eshly repainted 1033 on display at Trainworks on 6 March 2011.

This locomotive was built by Beyer Peacock & Company as builder's number 2661 of 1885 under an order for twelve 2-4-0T suburban passenger locomotives of the F(351) class. These were followed by a further six F(351) class locomotives supplied by Sydney manufacturer Henry Vale and Company, bolstering the class to a total of 18 locomotives. It had originally been numbered F 355 and received the number 1033 in the NSWGR's 1924 renumbering scheme. a

Locomotives of this general design had earlier been supplied by Beyer Peacock & Co to the Isle of Wight Railway. The South Australian Railways P-class locomotives (such as preserved P 117 at the Port Dock Station Museum) were also members of this design family. b

The F(351) class were removed from suburban passenger workings following a fatal accident at Sydenham in 1901 and relegated to workshop and depot shunting duties. Ten of the class were sold into industrial service, including F 360 which worked on the Wolgan Valley Railway to Newnes, however none of those sold in industry survived into preservation. Sister locomotive 1042 is also preserved after finishing its career as the Cardiff Workshops shunter and is one of the Henry Vale & Company supplied locomotives.

1033 finished its days as a workshop shunter and mobile steam plant at the NSWGR Eveleigh Railway Workshops in Sydney. It was statically restored to a high standard in lined green livery by the NSWRTM and had been a prime exhibit at the entrance to their Thirlmere site when that museum opened in 1975. However subsequent years of open-air display at Thirlmere caused 1033's paintwork to fade and the polished brasswork to tarnish. Her old boiler lagging also needed to be professionally removed. 1033 received cosmetic restoration and repainting to lined black livery in 2011 in time for the opening of the new Trainworks museum at Thirlmere, and now greets visitors as they head into the main exhibition hall. b

For further reference, Stephen Tolhurst provides a full history of loco 1033 on his X10 website. In addition, Alex Grunbach's authoritative book "A Compendium of New South Wales Steam Locomotives" c provides a good history of the F(351) class and the disposal details for those sold into industrial service. Also included is information about the Sydenham crash of 1901 and subsequent investigation, which struck your webmaster as interesting reading with modern parallels! b

Another surviving portion of the F(351) class is the boiler of Junee roundhouse shunter 1036, which is fitted to locomotive 1076.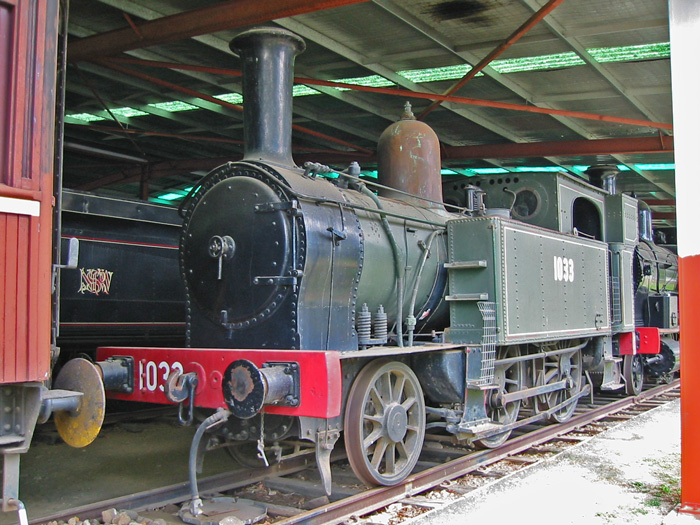 This photo of 17 March 2003 shows 1033 on display at the NSWRTM Thirlmere.
1033 wears lined green livery with a polished brass dome cover, however the paint and brasswork have weathered over the years of display.
References
a
"A Compendium of New South Wales Steam Locomotives" compiled by Alex Grunbach,

published by the Australian Railway Historical Society, New South Wales Division, 1989, pp.85.

b
c
Webmaster's observation or comment.
Page updated: 23 July 2012