1

First locomotive of the NSW Government Railways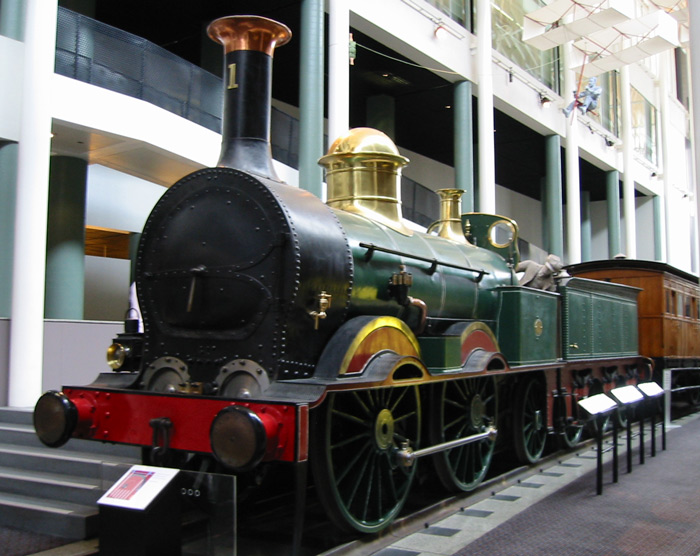 No. 1 and vintage carriages displayed as a key exhibit at the Powerhouse Museum in Sydney on 13 February 2005.
The first locomotives for the NSW Railways were four 0-4-2 locomotives supplied by Robert Stephenson & Co, which arrived in Sydney in January 1855 for the opening of the Sydney to Parramatta railway. No.1 was built by Robert Stephenson & Co as their builder's number 958 of 1854.
No.1 was withdrawn from NSW Railways service in 1877, however instructions for its preservation were not made until 1884 by which stage it apparently required considerable refurbishment. No.1 became an exhibit at the Museum of Applied Arts & Sciences in Sydney however it did make four external appearances for special events, the last being display in the Central Station forecourt for the 1955 NSW Railways' Centenary celebration.
No.1 was extensively restored in 1980 in preparation for opening of Sydney's new Powerhouse Museum, which superceded the Museum of Applied Arts & Sciences. During restoration No.1 was confirmed to predominantly comprise components of loco No.1, together with some components from sister locos Nos.2, 3 & 4. These components may relate to normal workshop attention during its service life, or the 1884 refurbishment.
In 1987 No.1 was placed on display in its current position as a prime exhibit in the Powerhouse Museum, together with three period passenger carriages.
The Powerhouse Museum website includes this complete history of loco No.1
Page updated: 17 November 2010